Description
NIFTY Pro™ Non-invasive fetal trisomy test
NIFTY Pro provided by BGI is a safe and easy prenatal test for detecting fetal chromosomal abnormalities. During pregnancy, the DNA of the baby will circulate into the mother's bloodstream. NIFTY Pro will require taking 6mL of the mother's peripheral blood to analyze cell free fetal DNA. Using the new generation of DNA sequencing along with bioinformatics to calculate the risk of having a fetus with chromosomal abnormalities.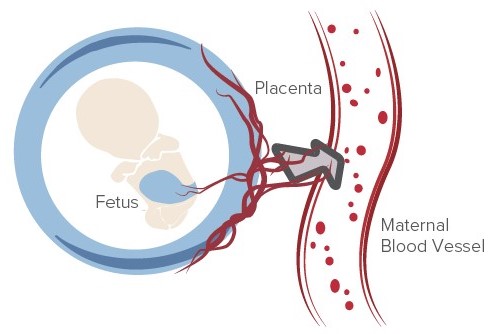 Benefits of NIFTY Pro
Risk Free
No miscarriage risk
Highly Accurate
99% accurate
All Inclusive screening
6 autosomal chromosome abnormalities

4 sex chromosome aneuploidies

84 microdeletions/microduplications

Incidental findings
includes the rare chromosomal mutation apart from the above 95 test items across 23 pairs of chromosomes
Assurance
Tests are all done in Hong Kong and reports are issued by Hong Kong MLT board registered Part I MLT
Early Pregnancy Test
Test could be done as early as 10 weeks or above of pregnancy
NIFTY Pro is suitable for
Women who would like to avoid miscarriage risk following invasive prenatal testing
Down syndrome screening indicating an increased risk of abnormalities
Pregnancy following IVF or history of recurrent miscarriage
Pregnant woman who wish to have a highly accurate result on whether her baby has Down syndrome
Comparison of Prenatal Screening Tests: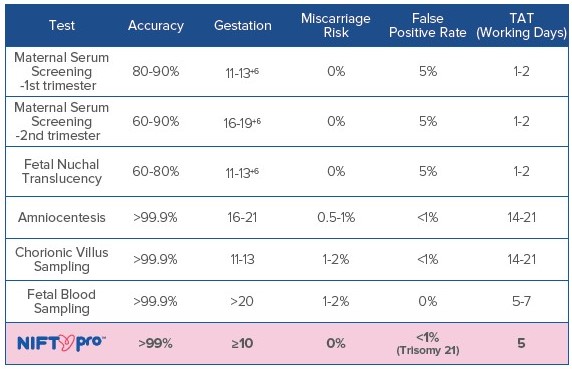 If you may require further assistance towards the report of NIFTY Pro, please contact your doctor.
Instructions for use:
Must be used on or before the expiration date
Please show your confirmation information, order number, registered full name and phone number for verification
Terms and Conditions:
This voucher is only valid for Trinity Medical Centre.
The voucher, which must be paid on or before 31 December 2023, can be used at Central , Causeway Bay or Tsim Sha Tsui Trinity Medical Centre.
All services must be booked and completed on or before 31 January 2024.
This voucher is non-refundable and cannot be redeemed for full or partial cash.
You must bring this ticket to the front desk when you register.
This voucher cannot be used with any other special offers and promotions.
This voucher is not valid after expiration (except for COVID-19 policy).
If this voucher is lost or stolen, we will not accept any liability and will not provide any reissue in such case.
If you have any questions, please call 2192 7022 or email tmc@trinitymedical.com.hk
Trinity Medical Centre reserves the right to amend the above Terms and Conditions without prior notice. In case of any disputes, Trinity Medical Centre reserves all rights for final decision.