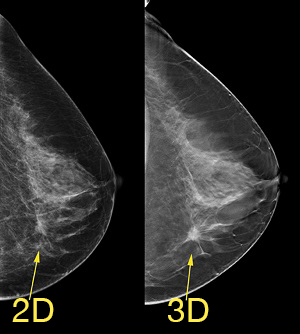 What is a 3D Mammogram (DIGITAL BREAST TOMOSYNTHESIS) ?
Trinity is one of 6 medical service providers in Hong Kong using this machine. This instrument can detect 41% more invasive cancer than other mammography, and the degree of reliability is incomparable.
It is a newly improved technology that reduces the squeezing of the breast during the examination; ladies can be free from the discomfort and embarrassment caused by traditional mammography.
The world's first and only tomosynthesis-guided biopsy, approved by the US Food and Drug Administration.
Advantage of 3D MAMMOGRAM
Detects 41% more invasive cancers.

Reduce false positive recalls by up to 40%.

Clinically superior exams with comparable radiation dose to conventional 2D imaging.

Due to the elimination of 2D X-ray exposure, the patient is exposed to a reduced radiation dose. The C-view software is FDA-approved to obtain 2D images during 3D mammography without the need for 2D exposure.

The fastest breast tomosynthesis available, less than 4 seconds of compression.

The world's first and only

FDA approved tomosynthesis-guided biopsy.
How is a 3D mammogram done?
The radiographer will require you to stand in front of the 3D mammogram apparatus and place one of the breasts on a clean plastic plate. The other plastic plate will then move downwards until it fixes the breast flat. The process takes around 4 seconds. The same process will be repeated on the other breast. A total of four sets of images will be taken in the scan, two sets each breast.
It will take around twenty minutes to complete the whole mammogram procedure.
Our doctor will review the films and write the report after the scan. You can choose to have your results delivered to you within 24 hours or collect them from our centre.
In the past need to squeeze the breast to reduce the overlap of breast tissue and false positive or missed diagnosis, and 3D stereoscopic breast imaging generally only need to gently press the breast will be able to complete, greatly reduce the pain.
The new technology can only be completed in 4 seconds to complete 60-70 images, so that discomfort to a minimum.
How to Make Process Smooth on the Day?
To bring your previous films or discs for reference

No need to fast. Had better avoided caffeine beverage (e.g. coffee, cola, and chocolate) which can make breasts to become sensitive.

Breasts are less sensitive after 1-2 weeks of your period. So, that is a better time to do mammogram.

Two-piece clothing is preferable. Such as skirt and trousers.

For safety reason, please avoid wearing jewelry.

Please do not wear deodorant or perfume
Mammogram provides one of the best radiologic ways to detect tiny changes of the breast. It is very useful to trace the possibility of cancerization or other severe breast diseases. However, the results are not 100% accurate but 1/3 death rate from breast cancer can be reduced if you have mammograms regularly.
We suggest that it is better to choose regular mammogram screening for women, especially for those with family history of breast disease.