Description
【National Day Special Promotion】M3CRC (with Doctor Consultation)
World's only NON-INVASIVE and HIGH SENSITIVITY
colorectal cancer risk prediction test that detects non-advanced adenoma and adenoma recurrence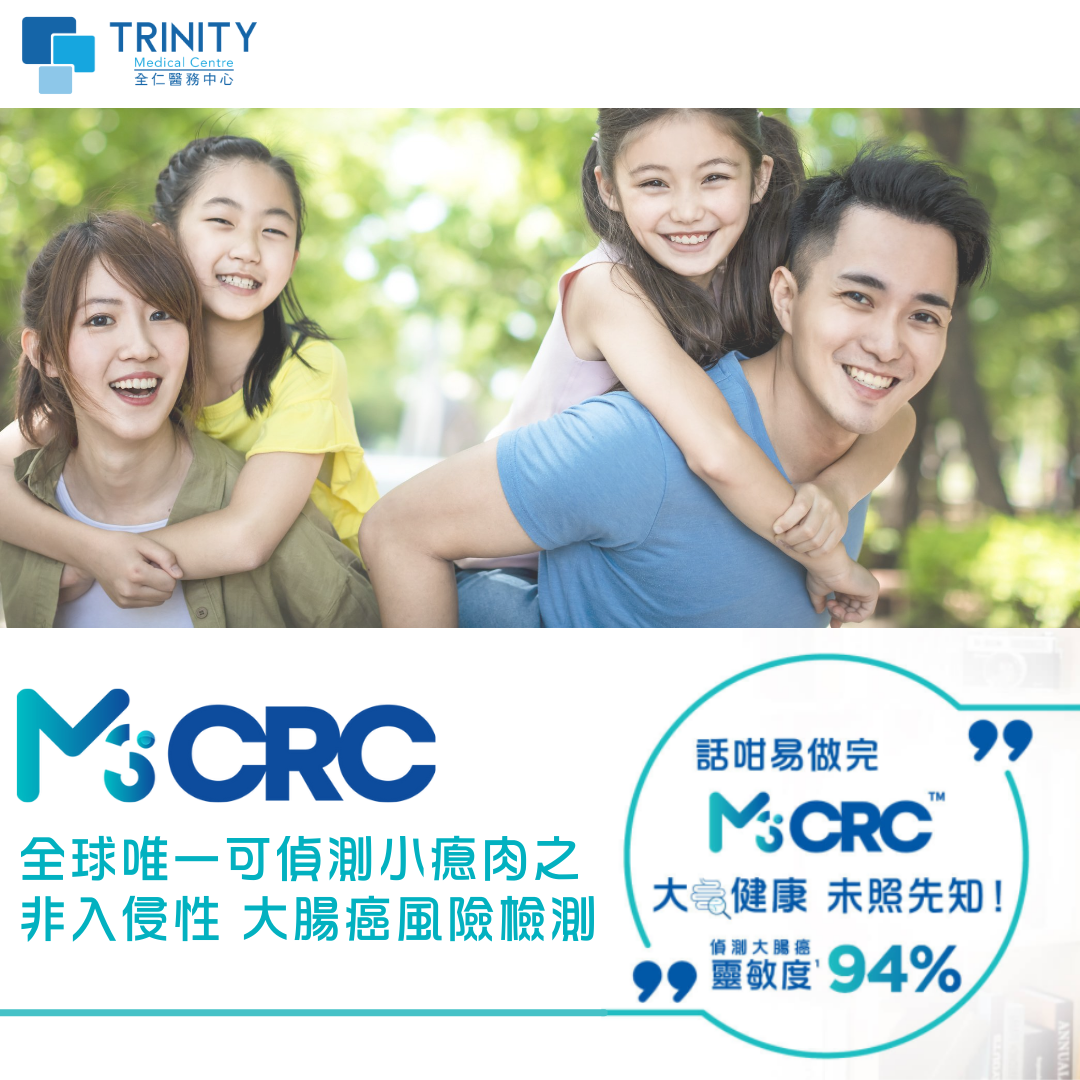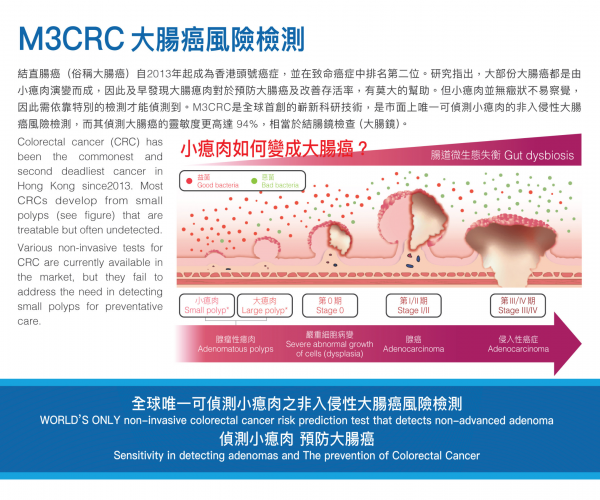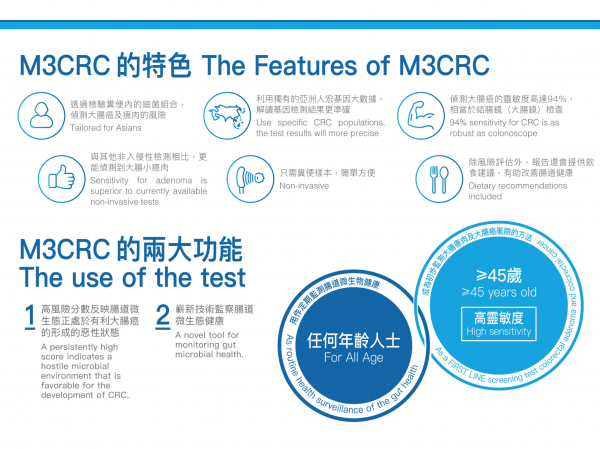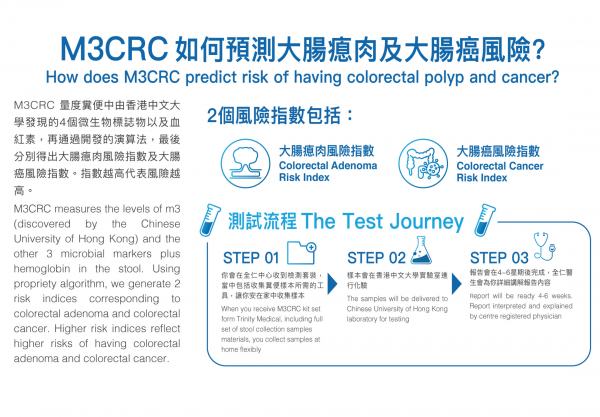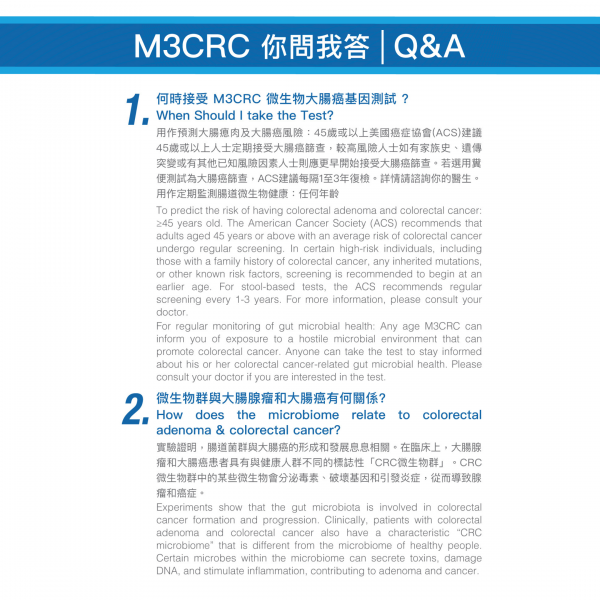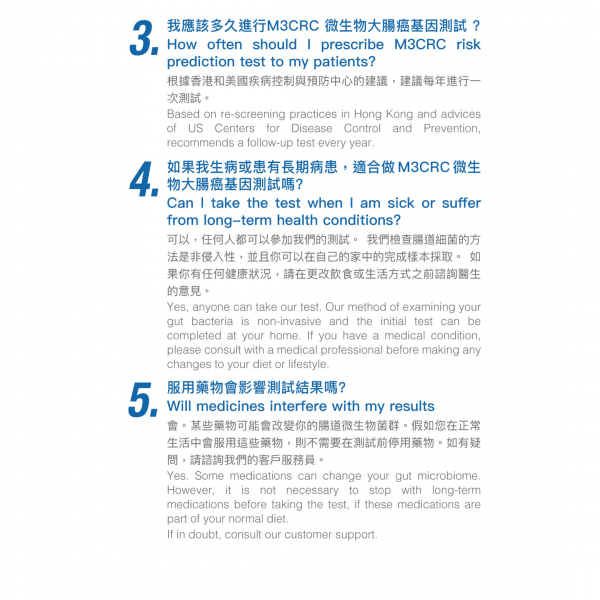 Sensitivity in detecting adenomas and early detection of Colorectal Cancer
Colorectal cancer (CRC) has been the commonest and second deadliest cancer in Hong Kong since2013. Most CRCs develop from small polyps (see figure) that are treatable but often undetected.
Various non-invasive tests for CRC are currently available in the market, but they fail to address the need in detecting small polyps for preventative care.
FIT (fecal immunochemical test), the most common of these tests, has a sensitivity of just 7.6% for small polyps. The stool DNA test, one of the newest CRC screening test, similarly only has a sensitivity of 17.2% for small polyps. (Imperiale, NEJM, 2014)
‍
The advantages of M3CRC
M3CRC is a world's only non-invasive colorectal cancer risk prediction test that defects non-advanced adenoma , the sensitivity of CRC is 94% comparable to colonoscopy10 and the specificity is 85%, sensitivity superior to currently available non-invasive test in detecting adenomas. (especially small polyps)
M3CRC Sensitivity detection
CRC – 94%
AA – 47%
Naa – 44%
Adenoma Recurrence – Can up to 90%
*at 85% specificity
CRC: colorectal cancer
‍AA: advanced adenoma
‍nAA: non-advanced adenoma
#Sample size increased since the publication of Ref. 10. Data on file.
Flexible stool collection at home
Please follow this video guide to collect the stool sample.
To ensure the accuracy of the testing, please read the following notes carefully:
Maintain regular diet within 2 weeks;
Avoid antibiotics within 4 weeks;
Avoid probiotics within 4 weeks;
Do not collect the stool sample when it is watery due to diarrhoea and when there is bleeding from haemorrhoids and menstruation;
Follow the Guide to collect the sample carefully. Return the sample within 24 hours.
Instructions for use:
Must be used on or before the expiration date
Please show your confirmation information, order number, registered full name and phone number for verification
Terms and Conditions:
This voucher is only valid for Trinity Medical Centre.
The voucher, which must be paid on or before 9 October 2023, can be used at Central , Causeway Bay or Tsim Sha Tsui Trinity Medical Centre.
All services must be booked and completed on or before 16 October 2023.
This voucher is non-refundable and cannot be redeemed for full or partial cash.
You must bring this ticket to the front desk when you register.
This voucher cannot be used with any other special offers and promotions.
This voucher is not valid after expiration (except for COVID-19 policy).
If this voucher is lost or stolen, we will not accept any liability and will not provide any reissue in such case.
If you have any questions, please call 2192 7022 or email tmc@trinitymedical.com.hk
Trinity Medical Centre reserves the right to amend the above Terms and Conditions without prior notice. In case of any disputes, Trinity Medical Centre reserves all rights for final decision.