Description
【National Day Special Promotion】Plasonic Facial Rejuvenatuion Treatment (First Trial Offer)
The PLASONIC Machine incorporates PlaPass and SonoPass technologies and works by using a handheld device that combines plasma energy and ultrasonic waves to stimulate collagen production and improve the overall health and appearance of the skin. Through PlaPass technology, it activates the skin's automatic absorption capability, allowing cells to absorb nutrients. SonoPass technology helps facilitate the transmission of PlaPass, ensuring the consolidation and locking of the penetrated essence, thus ensuring deep skin efficacy. The PLASONIC skincare program instantly restores skin radiance, improves uneven skin tone, replenishes moisture, and maintains skin's moisture-locking ability.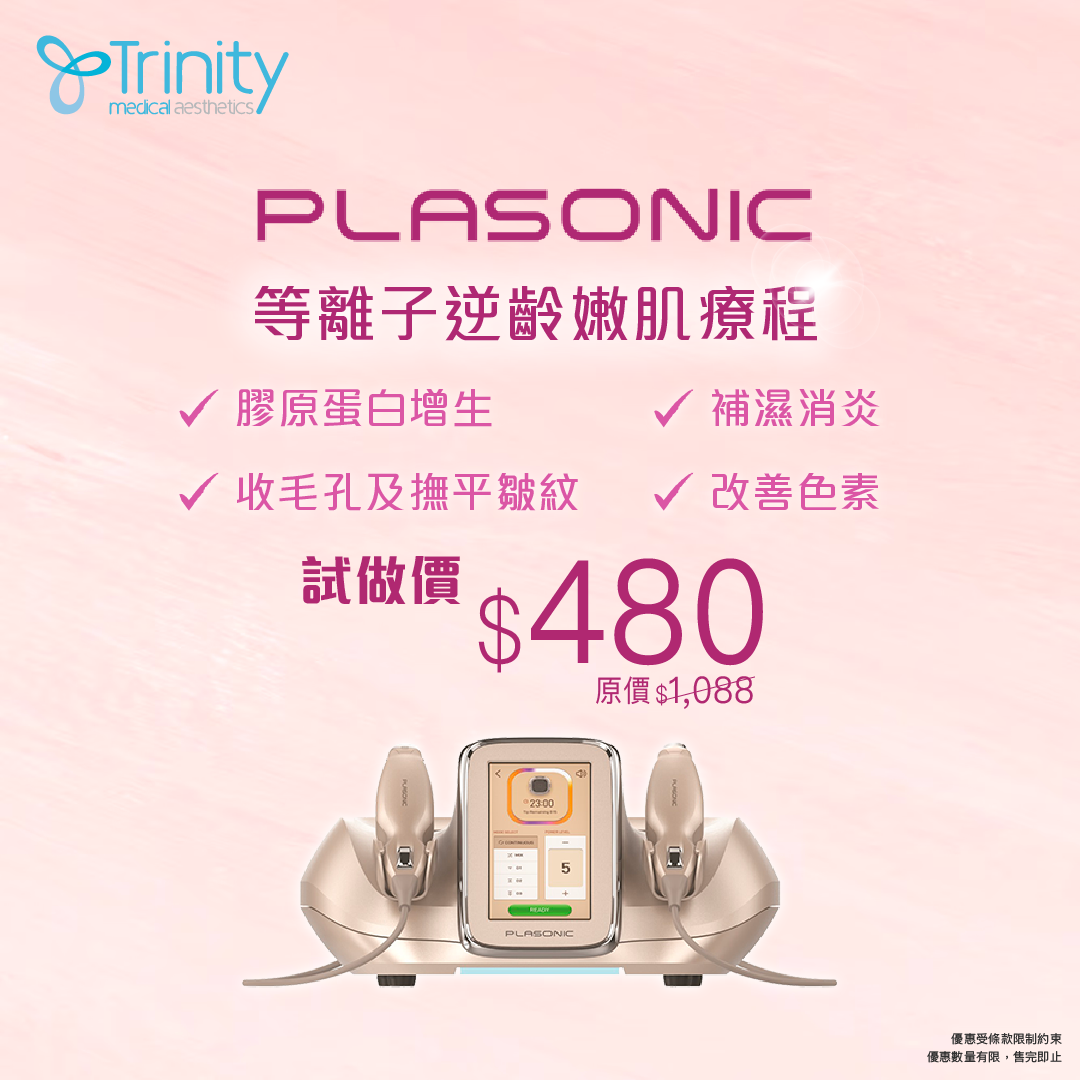 Plasonic is a non-invasive facial rejuvenation treatment that combines plasma and ultrasonic technologies. This treatment is designed to improve the skin appearance, remove aging keratin, sterilize, reduce inflammation, balance sebum production and open skin pores, allowing the skin to increase its absorption capacity by 4.66 times.
T

r

e

a

t

m

e

n

t

 

e

f

f

e

c

t
This treatment can exfoliate the skin, provide antibacterial effects, moisturize, whiten, and promote collagen production.
Instructions for use:
The voucher must be used on or before the expiration date.

Please show your confirmation information, order number, registered full name and phone number for verification

The 1st time trial is limited to the 1st time visiting customers.
Terms and Conditions:
The 1st time trial is limited to the 1st time visiting customers.

This voucher is only valid for Trinity Medical Aesthetics

The voucher, which must be paid on or before 9 October 2023, can be used at Central , Causeway Bay or Tsim Sha Tsui Trinity Medical Centre.

All services must be booked and completed before 6 months

This voucher is non-refundable and cannot be redeemed for full or partial cash

You must bring this ticket to the front desk when you register

This voucher is not valid after expiration (except for COVID-19 policy)

If this voucher is lost or stolen, we will not accept any liability and will not provide any reissue in such case

If you have any questions, please call 2192 7022 or email tmc@trinitymedical.com.hk

Trinity Medical Aesthetics reserves the right to amend the above Terms and Conditions without prior notice. In case of any disputes, Trinity Medical Aesthetics reserves all rights for final decision