Description
BTL Vanquish Meᵀᴹ – Fat reduction treatment  
Vanquish Me™ utilizes "targeted radiofrequency" to selectively eliminate fat cells. The treatment does not require direct contact with the body and is performed using non-invasive technology that is delivered remotely without touching the skin. It is safe, hygienic, and can effectively target burning fat areas.
Treatment effect
Vanquish Me™ uses remote delivery with targeted radiofrequency and non-invasive technology to selectively eliminate fat cells, and achieve faster recovery and a more ideal body shape.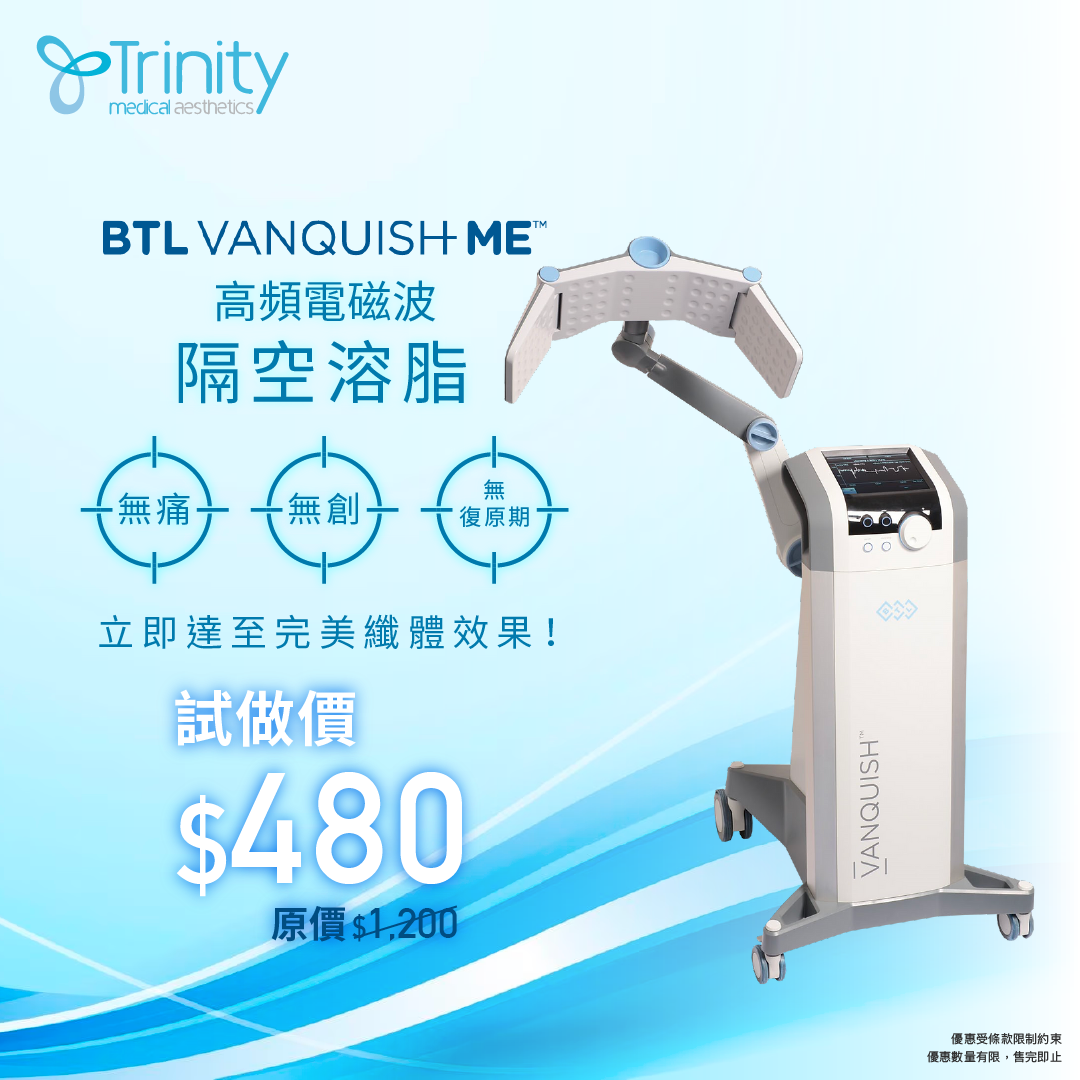 Instructions for use:
The voucher must be used on or before the expiration date.

Please show your confirmation information, order number, registered full name and phone number for verification

The first trial is limited to the 1st time visiting customers.
Terms and Conditions:
The first trial is limited to the 1st time visiting customers.

This voucher is only valid for Trinity Medical Aesthetics

The voucher, can be used at Central , Causeway Bay or Tsim Sha Tsui Trinity Medical Centre

All services must be booked and completed within 30 days 

This voucher is non-refundable and cannot be redeemed for full or partial cash

You must bring this ticket to the front desk when you register

This voucher is not valid after expiration (except for COVID-19 policy)

If this voucher is lost or stolen, we will not accept any liability and will not provide any reissue in such case

If you have any questions, please call 2192 7022 or email reception.tst@trinitymedical.com.hk

Trinity Medical Aesthetics reserves the right to amend the above Terms and Conditions without prior notice.

In case of any disputes, Trinity Medical Aesthetics reserves all rights for final decision