Description
【X'mas 10% Discount Promotion】Female Health Care Plan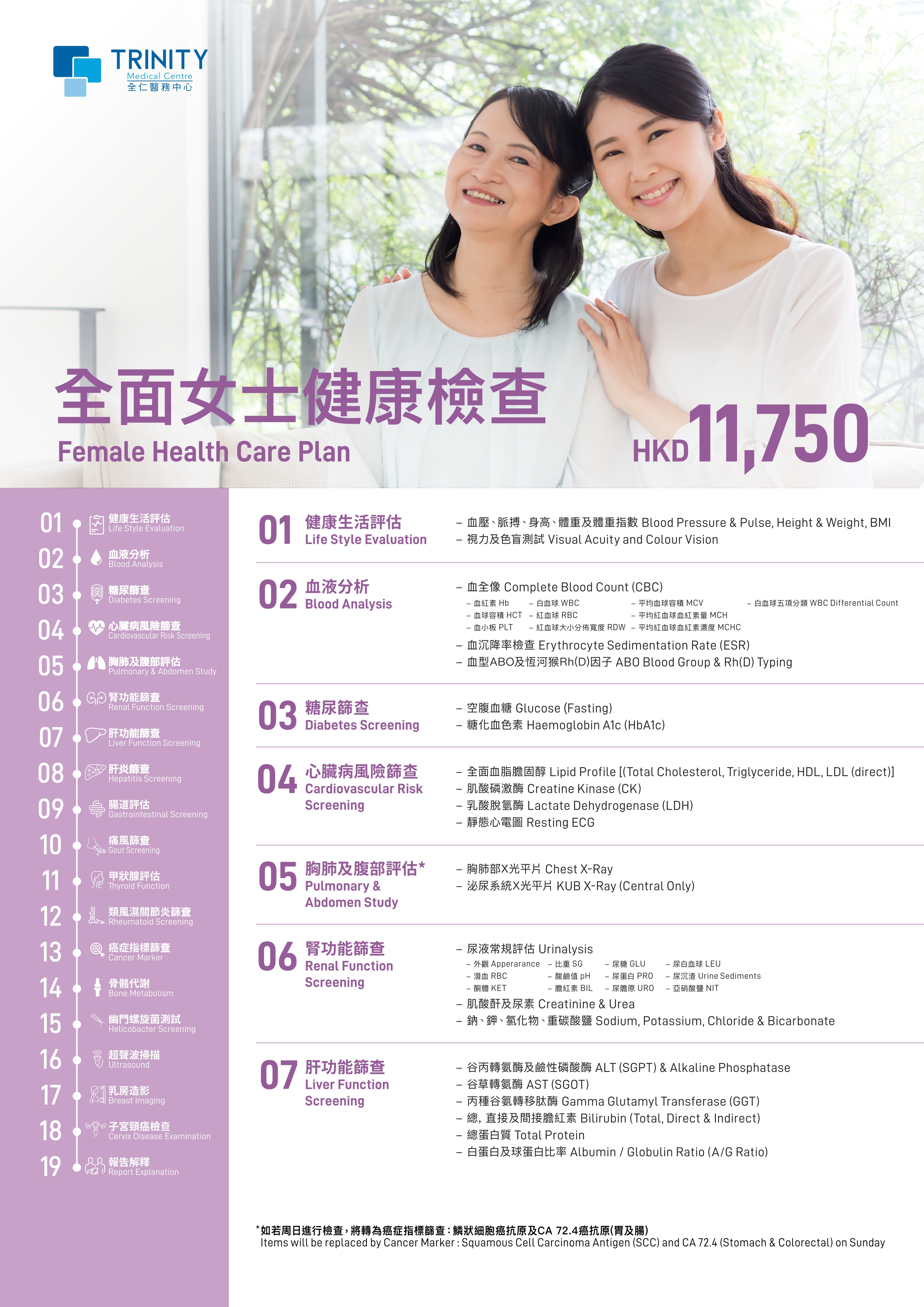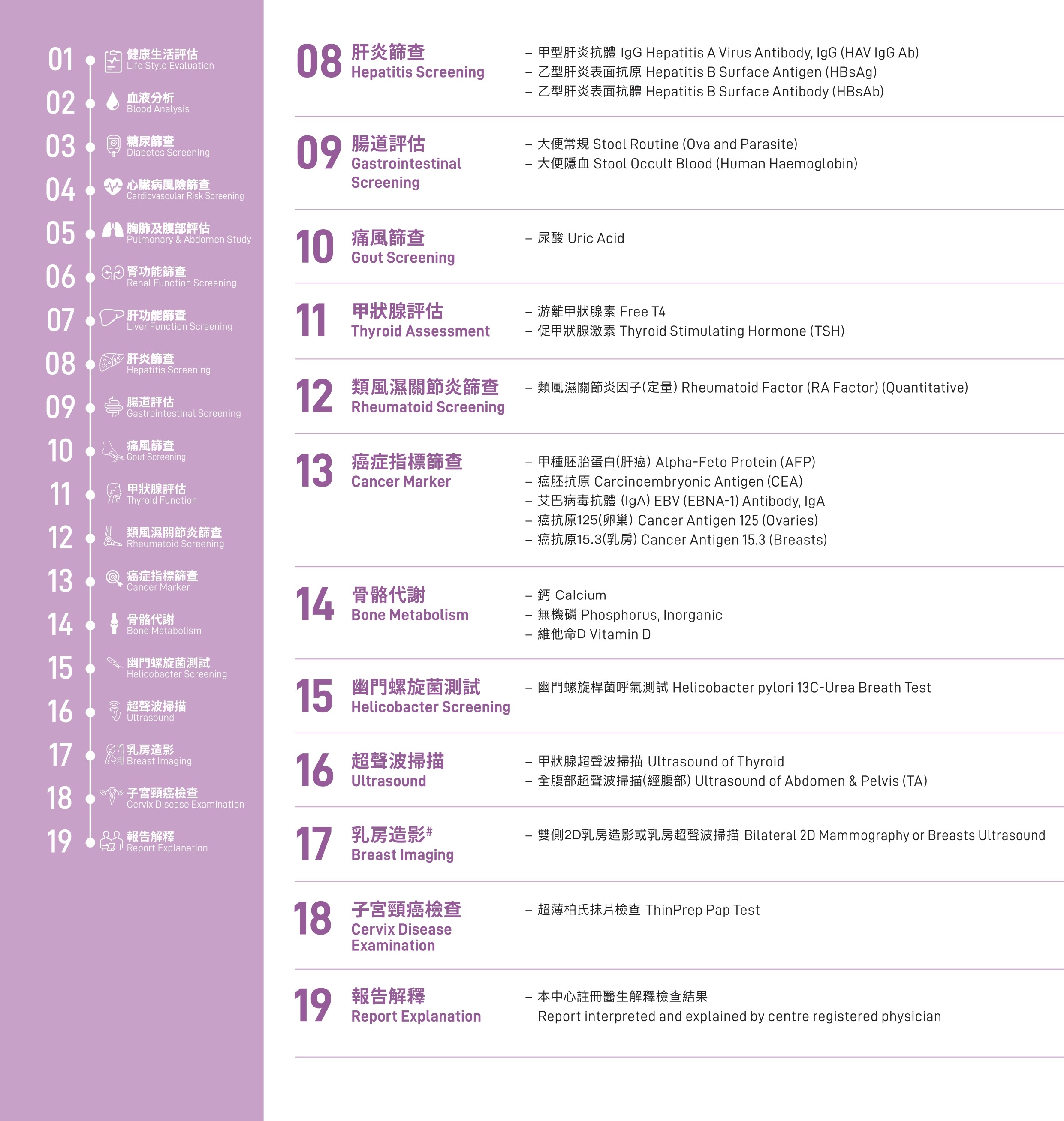 Item
Content
Life Style Evaluation
– Blood Pressure & Pulse, Height & Weight, BMI
– Visual Acuity and Colour Vision
Blood Analysis
– BloodGroupin, Rh-D
– Erythrocyte Sedimentation Rate (ESR)
Complete Blood Count
– Hb
– HCT
– PLT
– WBC
– RBC
– RDW
– MCV
– MCH
– MCHC
– WBC Differential Count
Diabetes Screening
– Glucose (Fasting)
– HbA1c
Cardiovascular Risk Screening
– Lipid Profile (Total Cholesterol, Triglyceride, HDL, LDL (direct)
– Creatine Kinase (CK)
– Lactate Dehydrogenase (LDH)
– Resting ECG
Pulmonary & Abdomen Study*
– Chest X-Ray
– KUB X-Ray
Renal Function Screening
– Urea
– Creatinine
– Sodium
– Potassium
– Chloride
– Bicarbonate
Urinalysis
– Appearance
– RBC
– KET
– SG
– pH
– BIL
– URO
– LEU
– GLU
– PRO
– Urine Sediments
– NIT
Liver Function Screening
– ALT
– AST
– Alkaline Phosphatase
– Gamma Glutamyl Transferase
– Total Bilirubin
– Direct Bilirubin
– Indirect Bilirubin
– Total Protein
– Albumin
– Globulin
– A/G Ratio
Hepatitis Screening
– Hepatitis A Virus Antibody, IgG (HAV IgG Ab)
– Hepatitis B Surface Antigen (HBsAg)
– Hepatitis B Surface Antibody (HBsAb)
 Gastrointestinal Screening
– Stool Routine (Ova and Parasite)
– Stool Occult Blood (Human Haemoglobin)
Gout Screening
– Uric Acid
Thyroid Assessment
– Free T4
– Thyroid Stimulating Hormone (TSH)
Rheumatoid Screening
– Rheumatoid Factor (RA Factor) (Quantitative)
Cancer Marker
– Alpha-Feto Protein (AFP)
– Carcinoembryonic Antigen (CEA)
– EBV (EBNA-1) Antibody, IgA
– CA 125
– CA15.3
Bone Metabolism
– Calcium
– Phosphorus, Inorganic
– Vitamin D
Helicobacter Screening
– Helicobacter pylori 13C-Urea Breath Test
Ultrasound
– Ultrasound of Thyroid
– Ultrasound of Abdomen & Pelvis (TA)
Breast Imaging#
– Bilateral 2D Mammography# or Breasts Ultrasound
Cervix Disease Examination
– ThinPrep Pap Test
Report Explanation
– Report interpreted and explained by centre registered physician
*Items will be replaced by Cancer Marker : Squamous Cell Carcinoma Antigen (SCC) and CA 72.4 (Stomach & Colorectal) on Sunday
#Only available for 40 years old or above women; Items will be upgraded to 3D Mammography at an additional cost of HKD980
Instructions for use:
Must be used on or before the expiration date
Please show your confirmation information, order number, registered full name and phone number for verification
Terms and Conditions for the Supermarket Cash Voucher Redemption:
The calculation of the invoice amount for the supermarket cash voucher is limited to the purchase of health check-up packages only. Other items or packages are not applicable.
The supermarket cash voucher can only be redeemed with a single invoice and cannot be combined with other invoices.
Qualified customers will be notified to collect the supermarket cash voucher within January 2024.
Customers can collect the voucher in person at the Trinity Medical Centre Tsim Sha Tsui clinic during January or opt for delivery via SF Express (applicable to Hong Kong and Mainland addresses) with the delivery charges paid upon receipt. Failure to collect the voucher within the specified period will render it invalid.
The supermarket cash voucher is issued in the name of the registered purchaser of the health check-up package. If someone else is authorized to collect on behalf of the recipient, please present the authorization proof.
Terms and Conditions:
This voucher is only valid for Trinity Medical Centre.
The voucher, which must be paid on or before 1 January 2024, can be used at Central , Causeway Bay or Tsim Sha Tsui Trinity Medical Centre.
All services must be booked and completed on or before 31 January 2024.
This voucher is non-refundable and cannot be redeemed for full or partial cash.
You must bring this ticket to the front desk when you register.
This voucher cannot be used with any other special offers and promotions.
This voucher is not valid after expiration.
If this voucher is lost or stolen, we will not accept any liability and will not provide any reissue in such case.
If you have any questions, please call 2192 7022 or email tmc@trinitymedical.com.hk
Trinity Medical Centre reserves the right to amend the above Terms and Conditions without prior notice. In case of any disputes, Trinity Medical Centre reserves all rights for final decision