Description
IMPORTANT NOTICE
Due to changes in the current customs clearance policy, all persons entering the mainland must hold a RT PCR COVID-19 test report valid within 24 hours and be quarantined for 14 days.
Trinity Medical Centre partners with recognised laboratories for testing for RT PCR COVID-19 recognised by the HKSAR Government and Mainland Authorities, and can be used for travel to Mainland and other Countries.
If Typhoon signal no. 8 still on live at 8 am in the morning. We will postpone the sample collection service to the next business day.
COVID-19 testing is currently limited to online booking only.
After the order is confirmed, we will arrange to send sample bottles to the address you have entered on the day before your sample submission date.
As a high volume of test kits are being sent every day, the transport companies are working till late and may deliver the sample bottles as late as 11:30pm. Thank you for your patience.
Please note that no refunds and date changes will be accepted after the appointment is submitted.
COVID-19 Testing Booking Hotline: +852 2192 7022
【Same Day Report】COVID-19 Deep Throat Saliva RT-PCR Test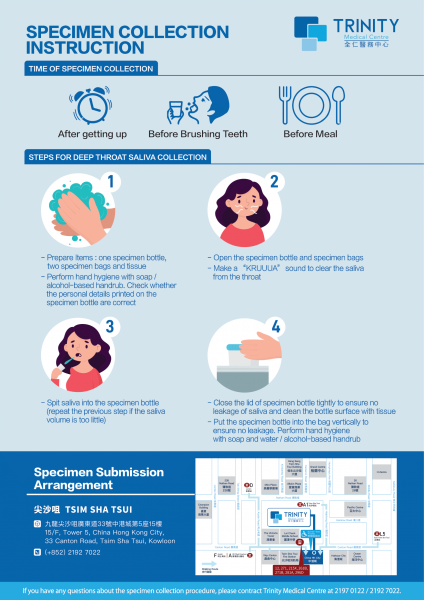 Please understand the correct sampling method. Please pay attention that re-sampling may be required if the sample istaken incorrectly, which may cause a delay in reporting
Suitable
Suitable for people who "Have privacy concerns", "In compulsory testing groups", "In high risk groups or high exposure groups (front-line & non work-from-home people)", "With symptoms of COVID-19" , "In close contacts of confirmed cases"
Disclaimer: The customer is responsible for contacting the corresponding official departments if they have any questions regarding any of their prerequisites. Please understand with the pandemic pressures, laboratories may experience delays which Trinity Medical Centre will not be issuing any reimbursement and / or refund.