Description
ColoClear® Non-Invasive Colorectal Cancer (FIT-DNA) Screening Test
Colorectal cancer is the second most common cancer with the highest fatality rate in Hong Kong. People with age, poor eating habits, genetic factors or inflammatory colorectal disease may have colorectal cancer. Polyps can grow and develop into cancer without showing symptoms. Colorectal cancer is one of the most preventable cancers – when caught at an early stage up to 90% of cases are treatable.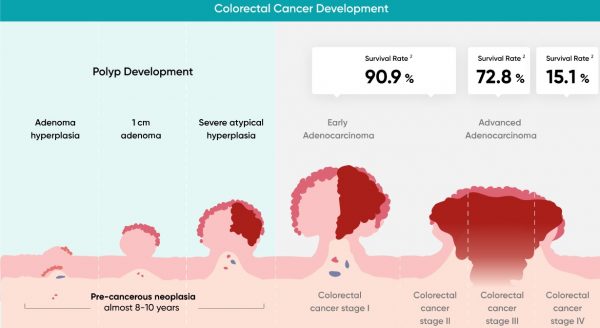 ColoClear® Non-Invasive Colorectal Cancer (FIT-DNA) Screening Test
ColoClear by Circle is a non-invasive, FIT-DNA screening test for detecting early signs of colorectal cancer using at-home sample collection. The test is designed to make colorectal cancer screening simple and convenient, so you can be proactive and in control of your health.
ColoClear combines advanced Stool DNA technology and Fecal Immunochemical Test (FIT) which results in 96% sensitivity for colorectal cancer. It is also the only approved colorectal cancer screening test by the National Medical Products Administration (NMPA).
How does ColoClear compare to other screening options?

Who can use ColoClear?
This test is particularly beneficial for people aged over 40 who are at average or higher risk for colorectal cancer. This includes, but is not limited to individuals who have:
A family history of colorectal cancer
A medical history of malignant colorectal tumours
Previously suffered from intestinal polyps
A medical history of appendicitis and/or an appendectomy
Symptoms affecting the bowels (e.g. diarrhoea, constipation, bloating, bloody stool), including younger individuals (above age 18)
How it works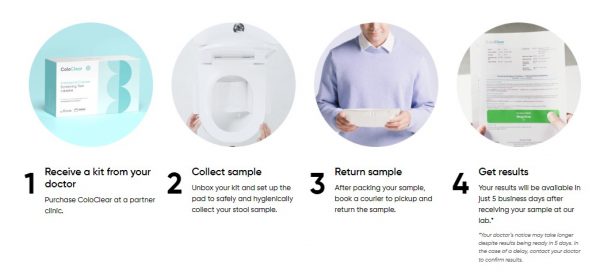 How to return your sample
【Pickup】
Book a next-day courier service before 4:30PM.
Check the list of restricted areas below for courier pickup service. If pickup is not available for your address, please drop off the sample at our lab.
Click here for areas where pickup service is not available
【Drop-off】
Drop off your sample directly at our lab within 48 hours of collecting your sample to avoid sample degradation.
Location: Prenetics Lab Reception, 7th Floor, Prosperity Millennia Plaza, 663 King's Road, Quarry Bay, Hong Kong. Open in Google Maps
Working Hour: Monday – Saturday from 9:00AM to 5:00PM.
Instructions for use:
Must be used on or before the expiration date
Please show your confirmation information, order number, registered full name and phone number for verification
Terms and Conditions:
This voucher is only valid for Trinity Medical Centre.
The voucher, which must be paid on or before 31 March 2023, can be used at Central or Tsim Sha Tsui Trinity Medical Centre.
All services must be booked and completed on or before 30 April 2023.
This voucher is non-refundable and cannot be redeemed for full or partial cash.
You must bring this ticket to the front desk when you register.
This voucher cannot be used with any other special offers and promotions.
This voucher is not valid after expiration (except for COVID-19 policy).
If this voucher is lost or stolen, we will not accept any liability and will not provide any reissue in such case.
If you have any questions, please call 2192 7022 or email [email protected]
Trinity Medical Centre reserves the right to amend the above Terms and Conditions without prior notice. In case of any disputes, Trinity Medical Centre reserves all rights for final decision.