Description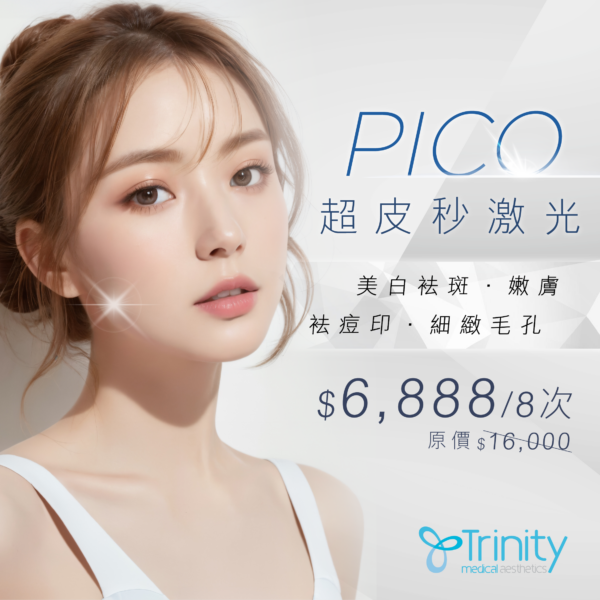 Pico® Laser Treatment (1 x FREE Plasma and Ultrasonic Facial Rejuvenation Treatment) $6,888 / 8 Treatments
The PICO® Laser works by delivering laser energy in picosecond pulses, which are one trillionth of a second in duration.
These ultra-short pulses are able to penetrate the skin more deeply than traditional lasers, targeting the pigment or other unwanted tissue more effectively.

The result of the PICO® Laser used for a variety of dermatological conditions, including tattoo removal, acne scars, pigmentation, and skin rejuvenation. It able to treat a wide range of skin types and conditions, including darker skin types that may be more difficult to treat with traditional lasers. The treatment is also relatively comfortable, with most patients experiencing only mild discomfort during the procedure.
Expected Results:
Pigmentation, melasma, sun spots, freckles
Acne scars
Enlarged pores
Overall control of skin tone and complexion
Different handpieces are used to target different layers of the skin, in order to achieve desired results.
Two wavelengths available:
532nm – targets blemishes on more superficial layer of the skin
1064nm – can reach into deeper layer of the skin
In general, an estimate of 3 to 6 treatments at monthly intervals are recommended for superficial pigmentation. For pigmentation like melasma, more treatments may be required to achieve desired result. This treatment is not suitable for pregnant / breastfeeding women.
FREE: Plasma and Ultrasonic Facial Rejuvenation Treatment
The combined plasma and ultrasound treatment improves skin quality and appearance by stimulating fibroblasts and collagen production in the skin, improving blood circulation and increasing lymphatic drainage. Skin becomes more hydrated, pored are more refined, skin tone and complexion improved.
In general weekly treatment is recommended.
This treatment is not suitable for pregnant / breastfeeding women.
Instructions for use:
Must be used on or before the expiration date
Please show your confirmation information, order number, registered full name and phone number for verification
Terms and Conditions:
This voucher is only valid for Trinity Medical Aesthetics
The voucher can be used at Central or Tsim Sha Tsui Trinity Medical Aesthetics
All services must be booked and completed before 6 months
This voucher is non-refundable and cannot be redeemed for full or partial cash
You must bring this ticket to the front desk when you register
This voucher is not valid after expiration (except for COVID-19 policy)
If this voucher is lost or stolen, we will not accept any liability and will not provide any reissue in such case
If you have any questions, please call 2192 7022 or email reception.tst@trinitymedical.com.hk
Trinity Medical Aesthetics reserves the right to amend the above Terms and Conditions without prior notice. In case of any disputes, Trinity Medical Aesthetics reserves all rights for final decision